At Cobble Knoll Orchards of Benson, Vermont we grow over 70 varieties of apples, including heirloom varieties. Below you will find a list of those apples, along with a flavor profile. Please check out our Harvest Schedule to learn when each apple is available for picking.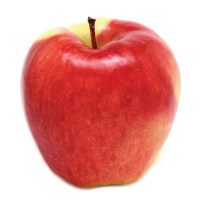 Ambrosia
Crisp and juicy with a sweet, honeyed flavor.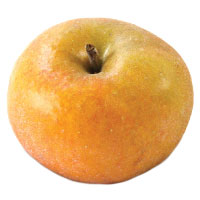 Ashmead's Kernal
The sweet-tart flavor of this superb heirloom apple has made it a connoisseur's favorite.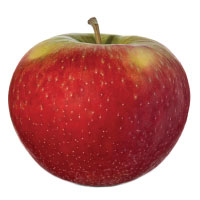 Autumn Crisp
 A cross between a Golden Delicious and a Monroe apple. Extra crisp and juicy. These make for excellent apple slice snacks. Amy's favorite!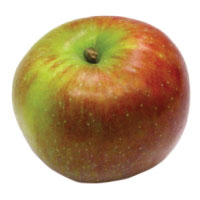 Baldwin
A bright red winter apple, very good in quality. It is a genuine dual-purpose apple. Offering a sweet, but crisp and pleasant flavor. It retains its shape when cooked, and lends a moderately rich sweet flavor to apple pies.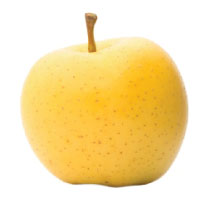 Blondee
A superior early yellow apple. It is  sweet and crunchy with smooth skin and bruise-resistant flesh.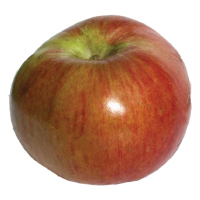 Bramley's Seedling
The perfect apple for tart, pie, or dumpling. It contains high acidity and low sugar, creating a tart, sour, and tangy flavor.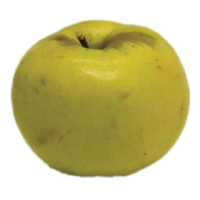 Calville Blanc
One of the world's great cooking apples, noted for its distinctive sharp spicy flavor. It is medium to large, slightly misshapen with large ridges.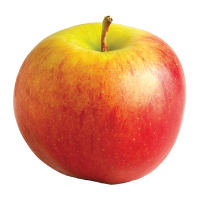 Candy Crisp
 A large ribbed dessert apple with golden skin. It is one of the sweetest apples you can get.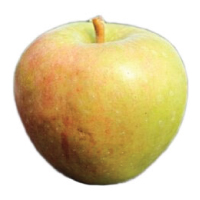 Claygate Pearmain
Offers a strong nutty taste, rich and aromatic.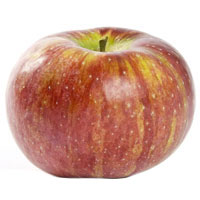 Cortland

Medium to large in size with a light red skin. Slightly tart, flesh discolors slowly. Great for eating, baking, and salads.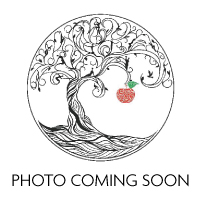 Court Pendu Plat
Aromatic and offer a fruity, somewhat nutty flavor with balanced sweetness and acidity. The flavor mellows with storage and is reminiscent of pears.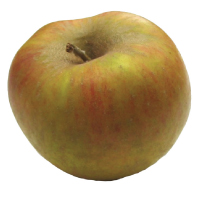 Cox Orange Pippin
A mid/late season variety that is probably at its best if picked when fully ripe, or picked slightly under-ripe and left in storage. The flavor is sprightly subacid, with hints of cherry and anise, becoming softer and milder with age.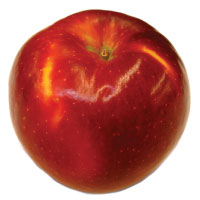 Crimson Crisp
Offers a sweet, yet spicy taste. The creamy-white flesh of this apple has an extremely crisp bite. Sweet taste with a hint of tartness.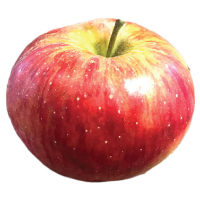 Crimson Topaz
Crisp and juicy this apple is great for fresh eating as well as cooking. Pressing your own cider? Add a few of these to round out your flavor. This variety lasts up to 4 months in the refrigerator so you can stock up for winter.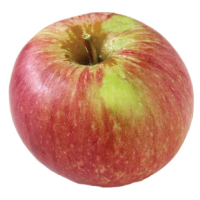 Dabinette
Not suitable for eating fresh, it is used for producing apple juice and cider.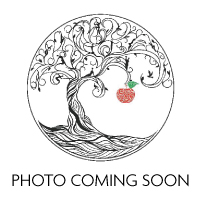 Ellis Bitter
A cider apple that produces good quality mild bittersweet juice.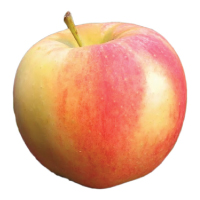 Elstar
Offers a balanced, sweet-tart flavor with pear and honey undertones mixed with mild acidity. Used for cooking and especially good for applesauce.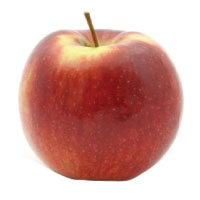 Empire
A sweet apple with a crisp, crunchy taste, and a bright white flesh.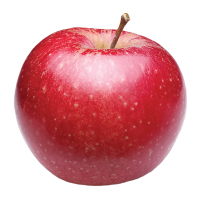 Enterprise
Offering a spicy flavor that pairs well with cinnamon and other warm flavors.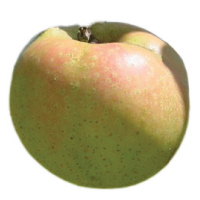 Esopus Spitzenburg
Offers a bright and balanced sweet-tart flavor with subtle, spice-filled undertones.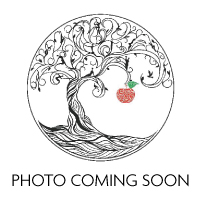 Franklin Cider
Offers a sweet, refreshing, and mild taste. Discovered here in Vermont in the town of Franklin. A favorite of high-end cidermakers.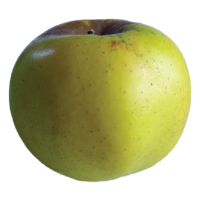 Freyberg
Offers a sweet flavor and can have a distinct pear-like note to it.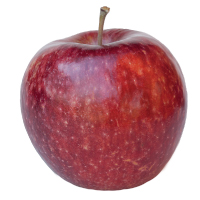 Frostbite
Offers an almost tangy, very sweet flavor. It is a great cider making apple.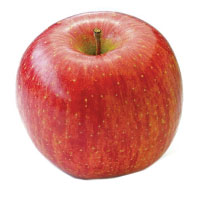 Fuji
Crisp and very juicy with a sugary-sweet flavor that resembles freshly-pressed apple juice.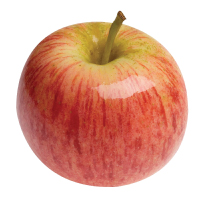 Gala
A cross between Golden Delicious and Kidd's orange red apples, it boasts a sweet flavor with hints of vanilla and has a floral aroma.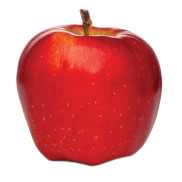 Galarina
A cross between Gala and Florina. Offers a sweet flavor similar to Gala.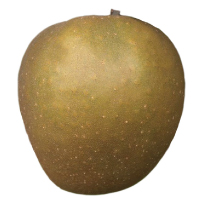 Gibson Golden Gem
Coming soon!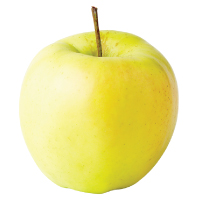 Ginger Gold
It is aromatic and has a gingery-sweet to mildly tart flavor. Great for snacks and especially baking in pies. Also a great salad apple, as its white flesh browns slowly when sliced.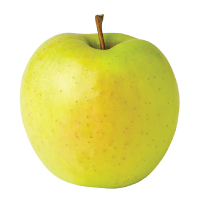 Golden Delicious
Mild, sweet flavor with juicy, crisp, light yellow flesh. Excellent for eating, salads, and sauces as well as pies and baking.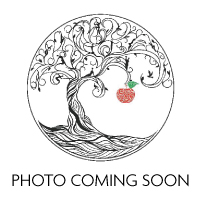 Hampshire Mac
A firm, crisp, and juicy Mac-like apple. It has a thin, sturdy skin and bears a mild sweet, sub-acid flavor that becomes more aromatic as it ripens.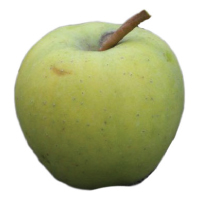 Harrison Cider
Coming soon!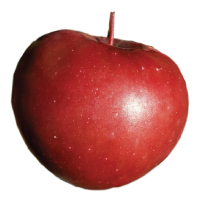 Harry Master's Jersey
Coming soon!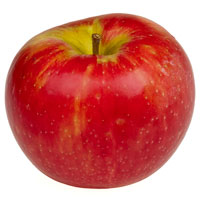 Honeycrisp Apple
Honeycrisp apples are larger in size with a red and green skin. Juicy, sweet and Crisp. A good dessert apple. Great for eating!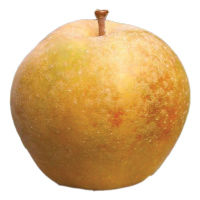 Hudson's Golden Gem
A medium-to-large russeted, long-stemmed fruit with a yellow, pear-like flesh that is sweet, crisp, and juicy. A great dessert apple that stores for several months.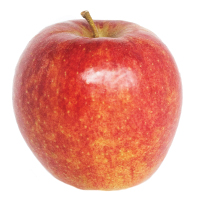 Jonagold
Tangy sweet with honey-like flavor notes, great for fresh eating and baking. Our Orchardist's favorite!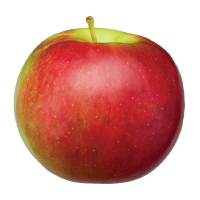 Jonamac
A cross between Jonathan and McIntosh apples, Jonamac is closer to a McIntosh in terms of flavor, just a bit sweeter. Many people love the touch-of-honey taste of a Jonamac, a great eating apple.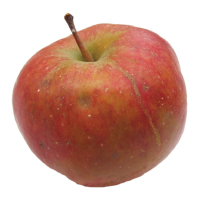 King of Tompkins County
The tender yellow flesh has an excellent balanced flavor. Great for eating and for cider making.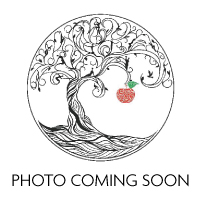 Kingston Black
Coming soon!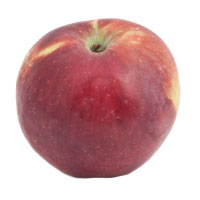 Liberty
Offers a nice sweet-tart flavor and crisp texture if picked at the peak of ripeness. It tends to be not so flavorful and crisp if picked a little early or a little late in the season.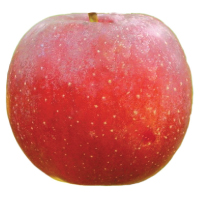 Little Jewel
Offering a sweet, fruity flavor and a thin peel makes this a great lunchbox snack.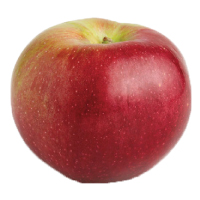 Macoun
A dark red with a purplish flush skin with firm flesh which is juicy and snow white, tasting sweet with a hint of berry.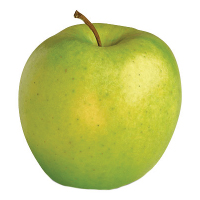 Mutsu
It is aromatic, sweet, and sharp, with juicy flesh. Good for eating on its own, juicing, drying, or cooking, as it maintains its shape well when cooked.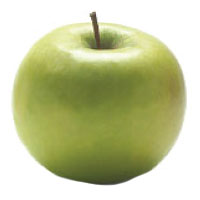 Newtown Pippin
Coming soon!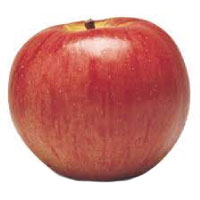 Northern Spy
Very juicy, crispy crunchy, tart and mildly sweet, with a rich flavor and thin, tender green and red skin. It is commonly used for desserts and pies, as well as juice and cider.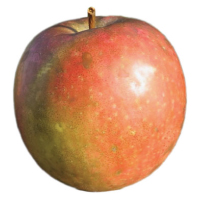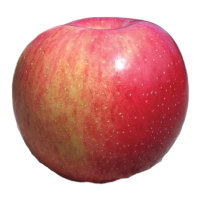 Opalescent
A large, somewhat ribbed apple with a brilliant deep red skin. Crisp, sweet, tart, and juicy. Good for fresh eating, baking, and drying.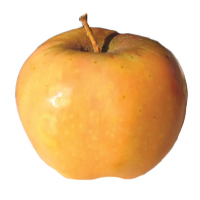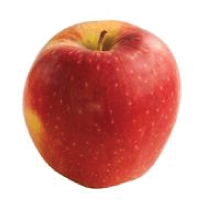 Querina Florina
Great for fresh eating, it was developed in France in the 1970s. A dark ruby red with some russeting around the stem, they're crisp and juicy with a sweet taste. Kept in the refrigerator they should last around 3 months.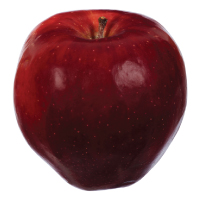 Red Delicious

Coming soon!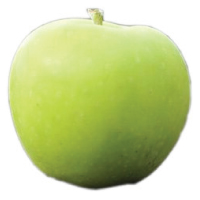 Rhode Island Greening
This firm, rich, juicy apple offers a peculiar, tart, but pleasant acid flavor. Great for fresh eating when ripe and excellent for pie.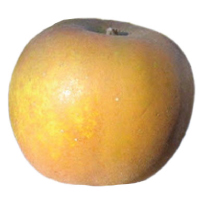 Roxbury Russet
Coming soon!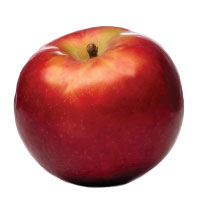 RubyMac
It is a great eating apple with a tart-sweet flavor. Perfect for applesauce.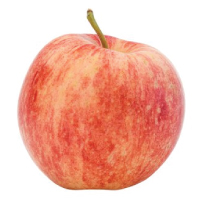 Sansa
Crunchy with a balanced, sweet-tart flavor with notes of grapefruit, cane sugar, and acidity. It is best for fresh eating or for making apple sauce. Has a short storage life, keeping for about a week in the refrigerator.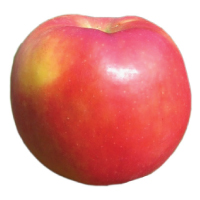 Scarlet O'Hara
Offering a sweet/sharp flavor with a moderately crisp texture.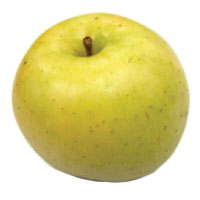 Shizuka
Offers an intense sweetness with a distinctive light, crisp flesh. Great apple for fresh eating, and is a great choice for salads as it is slow to brown.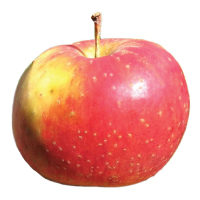 Smokehouse
Smoky colored with a muted blend of yellows, greens and a reddish-brown blush. Subtle flavor that is great for pies.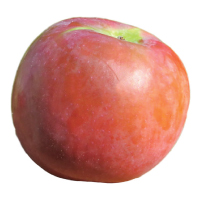 SnowSweet
Sweet with a slight tart balance and rich overtones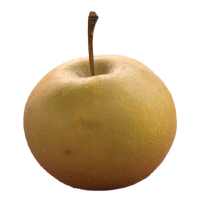 St. Edmund's Russet
Its flesh is juicy and crisp and it has a sweet, slightly tart flavor that is reminiscent of pear.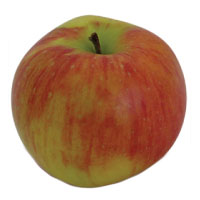 Summer Rambo
Offers a subacid, slightly sweet flavor. A great apple for early season eating out of hand and also perfect for sauce.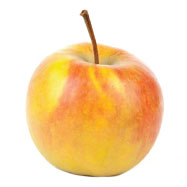 Suncrisp
Offers a delicious tart flavor, and long storage capabilities. Great for baking pies and desserts, apple juice, apple butter, and apple sauce.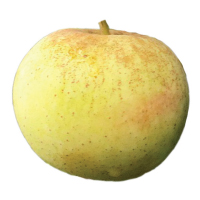 Sweet Coppin
Coming soon!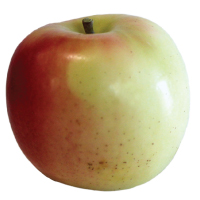 Sweet Sixteen
Very sweet, with an unusual flavor of sugar cane, or spicy cherry candy. Stores well.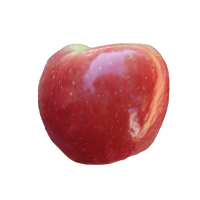 Wickson Crab
A cross of Spitzenburg Crab and Newtown, it is good for dessert, juice, and as a "sharp" acid source in fermented cider.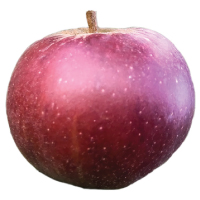 Yarlington Mill
Coming soon!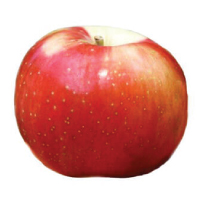 Zestar
Offers a sprightly sweet-tart taste with a hint of brown sugar. It is crunchy, juicy and best used for eating or cooking. It stores well in refrigeration, lasting a few weeks.

Do you love fresh cut flowers?